A Spiritual Search for Growth Through Music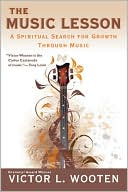 "Boy, do I have a lot to learn!" Anyone who's ever picked up a musical instrument of any kind-from the first caveman banging rocks to that little kid at the guitar shop-has thought that. I know I did. I'd been trying for years to break into the music scene, to show everyone my chops, to make my mark. And I was good. But I wasn't great. I knew that there was something missing.
Then the teacher showed up. I didn't ask for him. I didn't think I needed him. And all he said he could teach me was "nothing."
From Grammy® Award-winning musical icon and legendary bassist Victor L. Wooten-an inspiring parable of Music, Life, and the difference between playing all the right notes…and feeling them.